HZAU 4th International Doubles Men Badminton Championship
Badminton is a sport that is recognized and played by millions of people all over the world.
It is purely a recreational game and a highly competitive sport. For those players who have perfected the game, a series of professional tournaments have evolved to determine who the world's best badminton players are.
Like other games, badminton tournament (for men and women) is arranged every year regularly by International College, HZAU in support with "Sports & Recreation Department, Volunteers Cell, International College, HZAU" and students from all nations studying in HZAU take part in this game and make this event colorful. This year arranged "4th International Doubles Men Badminton Championship HZAU" on 31stDecember, 2016 in the gymnasium hall of HZAU.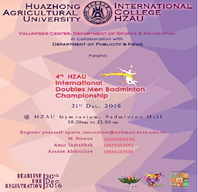 In total, 28 teams participated in this event and students belonged to different countries. Teams were categorized in four groups named A, B, C and D. In the opening ceremony a group photo was taken to all the participants.
Tournament was started on time. Matches were very thrilling and interesting; every team played well and tried their best to win the trophy. From each group two teams qualified for the quarter final matches. Thereafter, four teams, Ali Akbar & Adnan, Rizwan & Sajid, Shoaib & Asad, Sajjad & Harish), qualified for semi-final matches. Semi-final matches decided by draws. First semi-final match was played between Ali Akbar's team and Asad's team. Second semi-final was played between Rizwan's and Sajjad's team.

Both semi-finals were really very interesting; spectators enjoyed and supported their favorite teams. In first semi-final Asad's team beaten Ali Akbar's team and qualified for the final match. On the other hand, Sajjad's team failed to defend their championship and Rizwan's team qualified for the final match after a very thrilling competition in semi-final. Final match was played between Rizwan & Sajid team and Asad & Shoaib; both teams were from Pakistan country.
In the first set of the final match Rizwan's team won by 21/15 scores. In the second set, Shoaib's team had good comeback and won by 21/14 scores. In the third and last set, Shoaib's team played in pressure and Rizwan & Sajjad team played very well and won by 21/12 scores and became champion of this tournament.
The chief guest of this championship was Miss Wang Fengzhu from International College, HZAU.
At the end of the tournament, prize distribution ceremony was hold, trophies and prizes were distributed among the winners, runners up, third and fourth positions teams.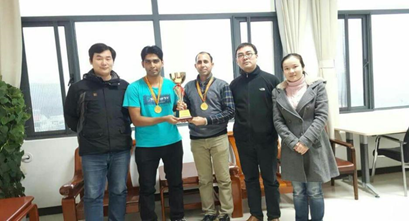 Winner team (Rizwan & Sajid) with International College Staff (Mr. Hu, Mr. Wang & Miss Wang)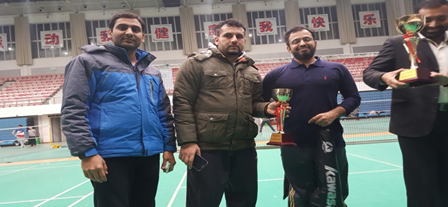 Runners up team with trophy (Asad & Shoib)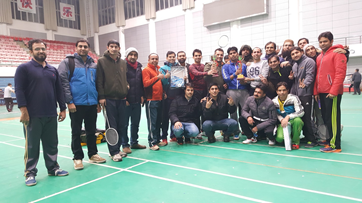 Group Photo with Winner and Runners up teams
Muhammad Rizwan,
PhD Scholar,
College of Economics & Management,
Huazhong Agriculture University, Wuhan, P.R China