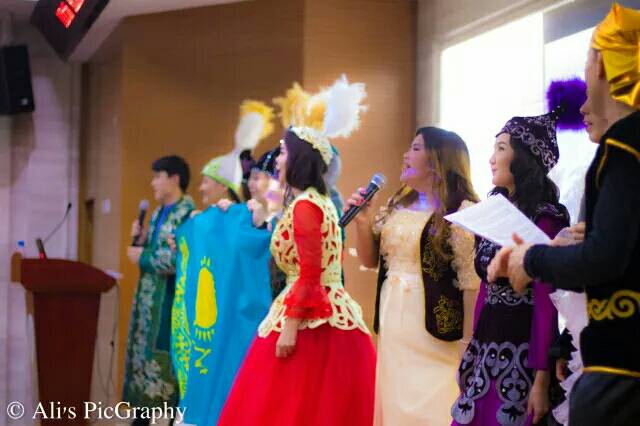 On the evening of April 12th, the 12th China agriculture international show, hosted by the international college of our university and the international cultural exchange association, was held in the hall of 501, the comprehensive building of kazakhstan. Leaders of the international college, representatives of overseas students' tutors and nearly 300 Chinese and foreign students attended the event. Kazakh students who can sing and dance have brought wonderful programs and exotic food. The atmosphere was warm and the climax was constant. The international show opens the door to central Asia and takes the audience to kazakhstan to experience the unique culinary culture and musical talent of central Asia.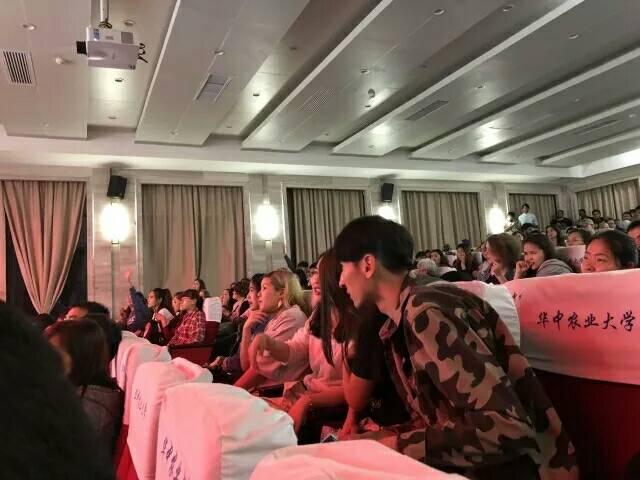 When wearing green traditional national costume of the host came on stage, she threw to sugar on the active atmosphere, and puts forward two problems test audience understanding of Kazakhstan, which leads to cultural introduction of Kazakhstan.Later on stage, Akhanova Ayawlim, who sang Salem sagan tugan el and danced with music to the applause of the audience. In addition to beautiful songs, traditional instruments also show the unique charm of foreign cultures. Erke Sylkym performed the song on the traditional instrument dongbula. The song became more and more rapid. The music was obviously exotic, and then the tune became light, causing the audience to clap and scream. Gully shows another style of dongbula, which is very graceful.
"The biggest problem between us is the cultural difference."From the stage to the offstage, models showed the audience colorful, exquisite and distinctive national costumes.A passionate and tender Kazakhstan national dance was followed. The three men stepped down to interact with the audience and invite them to dance together.The cheers from the audience brought the atmosphere to a climax.After cheering, two Kazakhstan girls read ABi's poems in Chinese in the background of traditional music.
During the program change, the students prepared a cultural introduction elaborately.In addition to the traditional culture, popular elements such as hip-hop, pop, guitar playing programs are interwoven, historical measurement, popular throughout the site is different from traditional collision out sparks.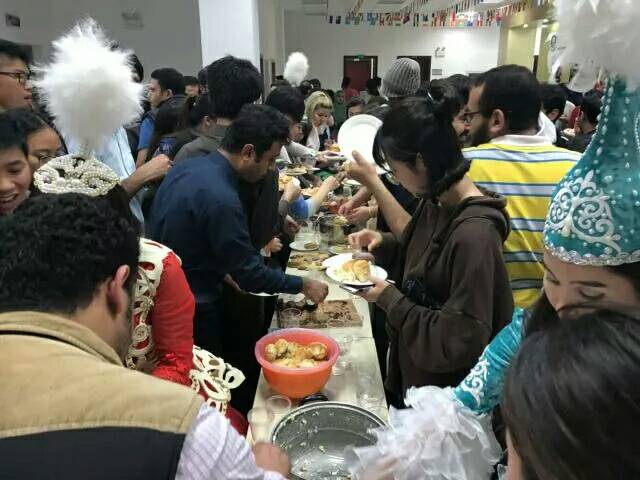 The tutor, on behalf of teacher Bi Geng, took the stage to tie a rope for a Kazakhstan child and expressed his good wishes to the child in the traditional Kazakhstan way. The atmosphere was warm.After that, vice President Hu Wen of the International College made a statement.While expressing his sincere hope for students, he also suggest that students take part in such activities to broaden their horizons while engaging in cultural exchanges.
The exotic kazakhstan show ended with the singing of Alga kazakhstan.