The 2nd orientation session for international students was held on November 10, 2018 at International College of Huazhong Agricultural University (HZAU), Wuhan, China. The main objective of this session was to introduce the campus life, scientific counseling, and rules and regulations to the new international students during their stay at HZAU. Department of Scientific research and development (SR&D, VCIC) arranged this activity to encourage new students about the new career at HZAU. The opening session was about the brief introduction of SR&D and its objectives. Mr. Khalid (coordinator of SR&D) presented the theme of session. Later on, Dr. Rafaqat Ali Gill (guest speaker from Chinese Academy of Agricultural Science, Wuhan, China) shared his experience about scientific research. He completed his PhD and Post Doc from college of Agricultural and Biotechnology, Zhejiang University and awarded as best graduate student in the year of 2014. He published more than 40 SCI research papers in well reputed SCI journals. Dr. Gill presented his research and useful guidelines regarding scientific writing. He shed light on the topic (from experiment to publication process). He explained the processes/stages of doing experiment, writing paper and submission process.

Invited speakers: Dr. Farhat Foda, Dr. Rafaqat Ali Gill and Dr. Muhammad Rizwan
Second speaker, Dr. Muhammad Rizwan (Post Doctor Fellow/Distinguished Student Award winner of HZAU, 2016-17.) presented his experience and shared useful information about extra-curriculum activities and education in China. He told the new students about the importance of extracurricular activities and Chinese language. He emphasized that extracurricular activities are also important for a healthy life and better output. He shared his experience that how he got achievements along with extracurricular activities. After his speech, Department of SR&D arranged General Knowledge Quiz about Chinese language and culture; audience actively participated in this segment; gifts were distributed among the winners.

Third lecture was arranged about the life at HZAU and how to adjust in a new environment. Dr. Farhat Foda (Postdoctoral research fellow and Principle Investigator (PI) of an NSFC project with Prof. Fang, State Key Laboratory, Huazhong Agricultural University, Wuhan, China) spoke his kind words about the life at HZAU. He emphasized the importance of Chinese language and how to manage time schedule in China. Dr. Foda gave useful tips about the study, lab routine, daily life and dealing with family members during the stay at HZAU.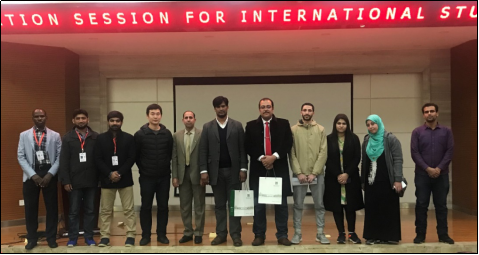 Finally, Ms. Hu Di (Police officer of Wuhan exit and entry administration bureau) gave the brief introduction of Chinese Laws. She told the new students about the laws of China and safety measures during the stay at China. The lecture was very useful regarding the stay and rules to be followed. She also highlighted the new policies for foreigner students that how they can get jobs and start their business after their graduation.
In conclusion, the session was very productive and useful. We are thankful to international college for organizing such a healthy activity to promote the scientific research and a happy life at HZAU. We look forward to have more productive activities in future.
Reported by: Asad Nawaz and M. Muzammal Adeel
Department of Scientific Research and Development