Dear new international students,
Welcome to join Huazhong Agricultural University!
According to the current situation of epidemic prevention and control, the specific arrangements for the coming semester are detailed as below.
For those who are outside China
1. The students who are outside China cannot enter the country due to travel restrictions and entry requirements. We will follow the policy from Chinese government, and please also pay attention to the latest policy of study visa application from the local Chinese embassy and the international flights information. The admission notice and other materials will be sent after everything is confirmed.
2. All new students should take part in the online courses "Chinese Language" and "A Glimpse of Chinese Culture" for the first semester, and other courses will be taken after enrollment. The course selection notice will be sent later, please pay attention to the website (http://ic.hzau.edu.cn/) and QQ group.
3. Please keep in touch with your supervisor and carry out learning and scientific research plan according to the supervisor's arrangement, and report the progress. ISO will track the new students' learning and scientific research situation by contacting with the supervisors.
4. The living allowance will start to be given after arriving in China and registration procedures finished as required.
For those who are in China now
1. Please arrive at the university to register on September 10th. You may email us to apply to postpone the registration if your cannot register on time. Those who doesn't register on time without asking for leave will be disqualified.
2. International students from middle and high risk areas are required to present the nucleic acid test report within one week before register. The other students must provide the health QR code ("green code").
3. International students who arrive on campus will complete the identity verification and enrollment qualification review at International Students Office(Room 220, Students Comprehensive Service Building, HZAU).
4. International students who go through the registration procedures offline according to the requirements of the university, the scholarship will be normally executed in accordance with relevant regulations.
If you have any questions, please contact with us by email: studyinhzau@mail.hzau.edu.cn or phone: +86-27-87281296/87288458.
Please join the QQ group (QQ group number:1108152386) or wechat group for 2020 HZAU international students, some notices and course arrangements will be delivered in QQ group or wechat group.
*Wechat group QR code (Expire before September 14, 2020)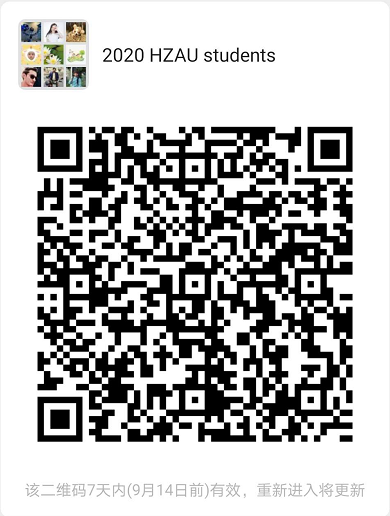 Thank you for understanding and cooperation on new semester arrangement. Looking forward to seeing you on campus!
International Students Office
Graduate School
Huazhong Agricultural Unviersity
September 7, 2020