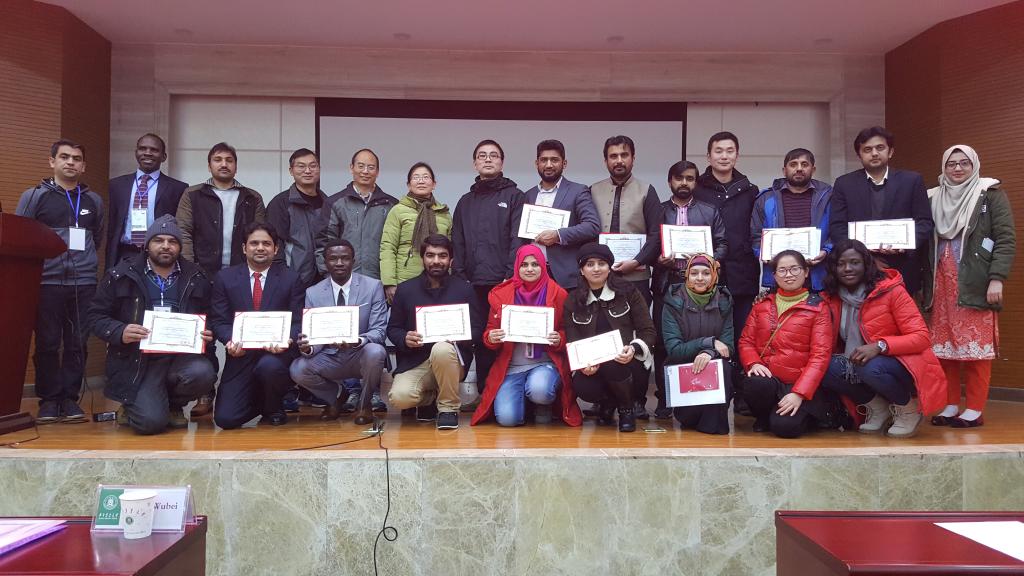 1月6日,首届国际学生学术年会在学生综合服务大楼五楼报告厅举行。年会由国际学生志愿者中心发起并举办,旨在展示国际学生研究成果,鼓励多维视角探究和跨学科合作,为提升学生表达能力搭建平台。
The First Annual Academic Symposium for International Student (AASIS) took place on Saturday, January 6, 2018, in Student Comprehensive Building Conference Hall. This symposium was initiated and organized by the Volunteer Center of the International College(VCIC). The theme of this year's symposium was to promote interdisciplinary research and collaboration in international students with the importance of exploring issues from multiple perspectives and to showcase the outstanding quality and diversity of graduate-level research at HZAU. In addition, this symposium provided an opportunity to the students to practice and enhance their communication skills.
动物医学院博士研究生Mujeeb Ur Rehman Nasar作为年会的组织者和国际学生志愿者中心科研发展部负责人,担任了年会主持人。他对参会师生表示欢迎,并介绍了嘉宾、评委和主题报告人。
Mujeeb Ur Rehman Nasar, (PhD Scholar from College of Veterinary Medicine) the organizing head and coordinator for Scientific Research Department of International College Volunteer Center was the MC of the symposium. He welcomed all the participants and introduced the guests, judges and keynote presenter to the participants of the Symposium.
国际学院院长胡承孝教授出席年会并致辞。他感谢志愿者中心把中外师生凝聚一堂,共享科研魅力。他对国际学生所取得的科研成果和卓越表现深感自豪,希望年会激励越来越多的学生展示科研成果、结交科研朋友、推动科研合作、提升科研生涯。他期待全体国际学生潜心科研,在知名期刊发表高质量、高因子科研论文,为建设世界知名华农作出贡献。
Prof. Dr. Hu Chengxiao, Dean of International College, made a welcome speech on the symposium. He thanked all students from the volunteer centre for their unique and great efforts to put students and teachers together and share a wonderful scientific fascination. He added that the international students in our university are our pride as they are contributing a lot in academic and being prominent for their outstanding performances. He hopes that this annual symposium will play a vital role to encourage more and more students to showcase research achievements, make research friends, develop research cooperation, and support future research careers. He expects that all the international students will do their best in research and publish high quality research articles with high impact factor in prestigious journal to dedicate more splendid HZAU around the world.
来自园艺林学学院的Robert M. Larkin教授为年会做了题为"Chloroplast Development in Arabidopsis and Horticultural Crops"的主题报告。
Prof. Dr. Robert M. Larkin from the College of Horticulture and Forestry Science was the keynote speaker of the AASIS and delivered his keynote presentation entitled "Chloroplast Development in Arabidopsis and Horticultural Crops".
之后的研究生报告分上、下午两个阶段,由国际学生分别汇报研究成果。植物科技学院董五辈教授、胡学博教授,动物医学院李家奎教授、沈瑶琴副教授,食品科技学院杨宏教授,信息学院陈玲玲教授等担任评委,并对报告人提问、点评和打分。根据评分结果,6名学生获最佳论文奖,6名学生获最佳报告奖。国际学院副院长胡文为获奖同学颁发了证书。
After that the 1st and 2nd formal presentation sessions of the students started and these sessions were judged by Prof. Dr. Li Jiakui (College of Veterinary Medicine), Prof. Dr. Dong Wubei (College of Plant Science), Prof. Dr. Chen Lingling (College of informatics), Prof. Dr. Hu Xuebo (College of Plant Science), Prof. Dr. Yang Hong (College of Food Science), and Dr. Shen Yaoqing (College of Veterinary Medicine). The respected professors and participants asked questions from the students at the end of each presentation and finally based on the average score of the Judges, six students were selected for both best student paper award and best oral presentation award, respectively. At the end, Mr. Hu Wen, Vice Dean, International College, HZAU distributed the certificates among the winners.
作者:Mujeeb Ur Rehman Nasar
图片:Amir Tajbaksh