Huazhong Agricultural University, Mar 23, 2017:

From March 20 to March 22, Professor Li Zhongyun, Chancellor of Huazhong Agricultural University (HZAU), together with our vice president, Professor Yao Jianglin led a delegation to Guigang City, Guangxi. The main goal of this visit is to strengthen the further cooperation with the Yangxiang Group and forward the public service mission of HZAU.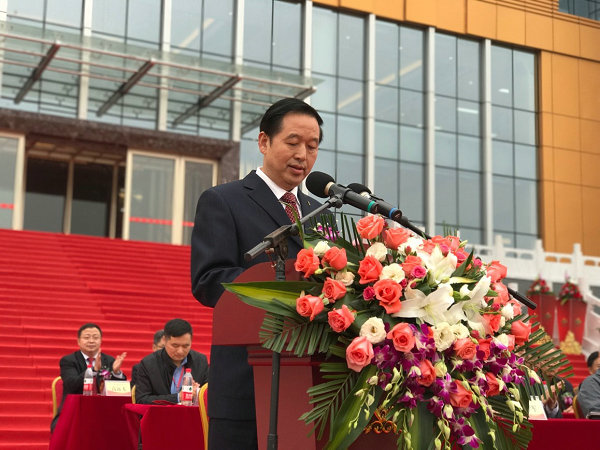 Chancellor Li Zhongyun Delivered a Key Speech on the Ceremony at Yangxiang Group
The delegates were warmly welcomed by Mr.Yang Xiang, the Chairman of the board of Yangxiang Group, Mr. Huang Dingshou, the president of Yangxiang Group and Dr. Shi Liang, the CEO president of the Yangxiang Group respectively. The two sides held talks to discuss the further cooperation in some strategic areas which will benefit both sides from the long-term cooperation. The Chairman expressed his sincere thanks to acknowledge and value HZAU's talents and technological supporting started from the establishment the Group.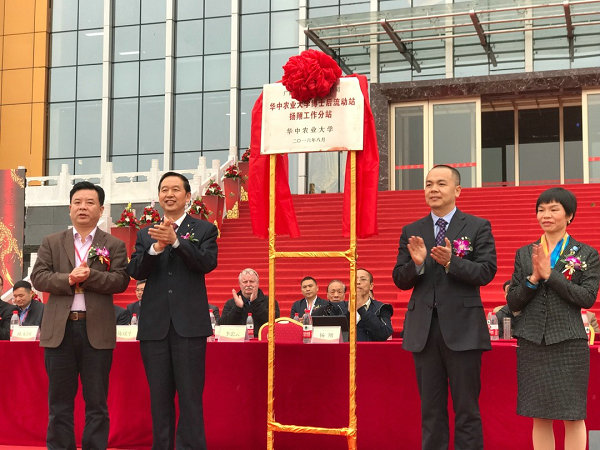 The Unveiling Ceremony of The HZAU Postdocs Station Branch at Yangxiang Group
On March 21, the delegates were invited to attend the opening ceremony of the new Yangxiang headquarter together with the unveiling ceremony of the branch station of the HZAU postdocs station at Yangxiang Group. Professor Li Zhongyun delivered a key speech on the ceremony. "HZAU is committed to society service through the close cooperation with agricultural-industry, our professors devoted to helping the technological innovation for the betterments of humankind, this is one of our university's mission. During the past twenty years' cooperation with Yangxiang Group, great achievements were fulfilled, which benefits both sides, facilitates the educations and teaching meanwhile." He highly evaluated the fruitful results attained through the interaction partner between the HZAU and Yangxiang Group, "Our university emphasized the public service mission, and will encourage our professors to devote more to push forward the technological input and carry out related basic research efforts with the aim to develop more innovative knowledge for the society," "This is one of the key strategic goal of HZAU. We are looking forward to the further cooperation with Yangxiang Group", stressed by the chancellor in the speech.
After the ceremony, the delegates paid visit to site seeing and held talks with the directors and technological staffs at Yangxiang Group. Li Zhongyun also held talks with alumni and some faculty members now working at Yangxiang Group.

Wang Congyan, the Assistant President of HZAU, Guan Hengda, Director of the department of Technology Affairs, Dr. Xiao Zhidong, vice director of Human Resources Department, Dr. Prof. Zhao Shuhong, Dr. Liu Xingbin, Li Yulin, Dean and vice Dean of The College of Animal Science and technology, Chen Sheng, Director of The Office of Alumni Affaires, Li Xiangdong, Dean of College of Informatics Technology and Dr. Prof. Wu Bin, College of Animal Medicine, accompanied the Chancellor's visit to Yangxiang Group.
Written by Dr. Xiao Zhidong, zdxiao@mail.hzau.edu.cn
http://news.hzau.edu.cn/2017/0323/48644.shtml (A Chinese version)