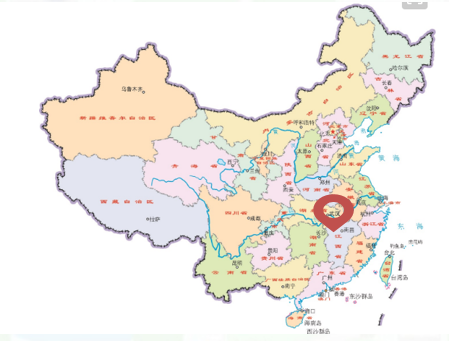 Wuhan is home to HZAU. As the capital city of Hubei province and the largest city in central China, Wuhan is recognized as the political, economic, financial, cultural, education and transportation center of central China. It covers an area of 8494 square kilometers and nurtures a population of 10,020,000. With a long history, rich culture and prosperous development, Wuhan is a great place to live, work, do business, and enjoy life.
Major City in Central China
Wuhan is located in Central China. China's H-shaped economic development pattern in the coastal areas, the Yangtze River Economic Belt and the western region have taken shape, in which Wuhan serves as the transportation junction connecting the east and the west, linking the north and the south. Therefore, it is crowned by the domestic economists as "China's economic and geographic center" and has ranked the 6th of the "Top 50 Cities with the Strong Comprehensive Strength in China" for years consecutively. In the UN World Urbanization Prospects report issued in February, 2002, Wuhan ranked the 6th among the 25 most promising Chinese cities.
Science and Education
Wuhan is the scientific, cultural and educational center in Central China, with its comprehensive strength in this regard ranking the 3rd among all the large-and-medium-sized cities in China, just next to that of Beijing and Shanghai. Wuhan boasts abundant intellectual and human resources. There are 52 regular institutions of higher learning in Wuhan with over 700,000 students, 736 scientific and design institutes, 10 state key laboratories, 59 Academicians of China Academy of Science and China Academy of Engineering as well as 450,000 technicians of various kinds. East Lake Development Zone in Wuhan is the 2nd largest intellectual-intensive area only inferior to Zhongguancun in Beijing, playing a leading role in terms of science and technology development nationwide in the following 5 fields: communication, biological technology, laser, microelectronic technology and new materials.
Geography
Located in the middle reaches of the Yangtze River, Wuhan has been regarded as the "thoroughfare to nine provinces". Beijing-Guangzhou Railway and the Yangtze River converge in Wuhan and also Beijing-Jiulong Railway and Beijing-Guangzhou Railway intersect in it, thus forming a railway network linking North China, Southwest China, Central-South China and East China. Moreover, Beijing-Zhuhai Expressway and Shanghai-Chengdu Expressway converge in Wuhan and a High-speed Railway along the Yangtze River will be completed here soon. Therefore, a "flexible multimodal transportation system" combining expressways, high-speed railways and water transportation on the Yangtze River gives greater prominence to Wuhan's position of strategic importance as a junction of water and land transportation in China.
Market
Wuhan is the largest inland logistic and cargo distribution center in China, with its service covering approximately 400 million populations in the 5 neighboring provinces including Hunan, Jiangxi, Anhui, Henan and Sichuan. At present, there are over 10,000 commercial organizations, 105,000 commodity networks, 4 commercial listed enterprises as well as 8 comprehensive shopping centers on the list of China Top 100 Retail Shopping Centers.
Industry
As an important industrial base, Wuhan has a solid foundation in both hi-tech manufacturing industry and traditional manufacturing industry. At present, a new economic growth belt featuring the integration of hi-tech and traditional manufacturing industries has taken shape, including a series of industrial clusters such as Optical Valley of China, Dongfeng Peugeot Citroen Auto Town, Taiwan Enterprises Development Zone and Yangluo Development Zone along the 88 kilometers Middle Ring of Wuhan. It has a complete array of industries, including over 30,000 industrial enterprises of 33 industries such as iron and steel, automobile, equipment manufacturing, petroleum and petrochemical, optoelectronic communication, western and traditional Chinese medicine, biological engineering, textile, clothes and food. Its strong comprehensiveness of facilities provides investors from home and abroad with a great platform to invest.
Environment
Wuhan has greatly improved its comprehensive service functions by promoting environmental innovations. A batch of pivotal infrastructures with important functions have been completed such as Wuhan International Airport, airport expressway, the Yangtze River No.2 Bridge, No.3 Bridge, millions of private branch exchanges (PBX), water plants, power plants and sewage treatment plants. In addition, started from transforming the government functions, we have introduced "a package" public cooperation system for foreign enterprises, communication with mayor system, complaint-resolving system and investment environment accountability system, etc. After the observation on Wuhan's investment environment, the United Nations Industrial Development Organization deems that it is the primary city to invest in China's central and western regions. After more than half a year's investigation and evaluation, Wuhan was given the highest scores among the 15 large cities along the Yangtze River in terms of investment environment by the Shanghai Hong Kong Council for Promoting the Development of Yangtze.